BY JOE PARKER April 1, 2021 Updated: April 1, 2021
The name "Davenport" comes from a reference in the records of an 18th-19th century English furniture maker Gillows. The reference, in about 1795, gives the original design and says that it is a desk for a Captain Davenport. To my knowledge, no record of a Captain Davenport has ever been found from this period. However, the names (Captain's desk or Davenport desk) stuck and the design has been popular ever since. Typically, it is a small slant top desk, no more than 2 feet square with 4 drawers on the right hand side and 4 false drawers on the left hand side. The style evolved over the decades and piano top versions, like the one I built, date from the mid-19th century.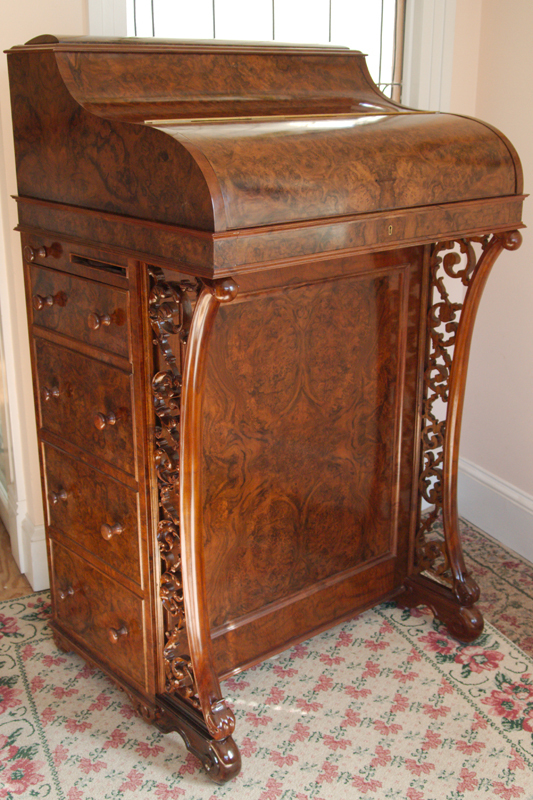 My Davenport saga began about 15 years ago when I ran across pictures of an antique Davenport by Blain of Liverpool. It was said to be made from burr oak and figured walnut. I was struck by the graceful transition from the writing surface to the feet, and by the carved base. In contrast, most Davenports have what I consider to be awkward transitions and plain bases. There were no dimensions and the pictures were not the best, but, as we all do sometimes, I stowed them away "for the future".
Fast forward a dozen years and I decided that the time had come to build this Davenport. I still had not done any carving, but I had accumulated a nice collection of antique carving gouges. I had also built a carving platform and a version of Al Breed's cabriolet leg vise sufficiently long to hold those long transitional pieces. Finally, I had done enough hammer veneering (e.g. Member's Gallery, Pins & Tails, Winter 2017) to want to tackle some burl veneer. Thus, I decided to cover the entire desk in walnut burl with figured claro walnut moldings and black walnut carvings.
Little did I know that I was embarking on a three year journey, a journey which would not only include learning to carve and to deal with modern burl walnut veneer, but also to make hardware pieces which are no longer available, such as the full width brass hinge for the piano top.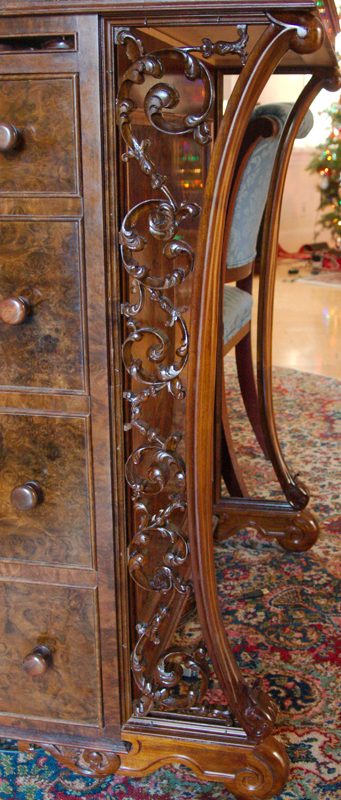 I should mention at this point that I am a design-on-the-fly kind of woodworker. I may make lots of sketches, puzzle out dimensions and ponder solutions, but I never wait until I have detailed plans to start. In fact, this project was my first use of Sketchup and that was only to scale the pictures I had of the "inspiration" desk. So, it should come as no surprise that rather than try to build a reproduction, I decided to use it as inspiration for what I really wanted – an over-the-top stand up computer desk.
How do I define a computer desk? Well, first of all, I wanted it to contain a desktop-class computer, a printer, and a scanner. These are two peripherals that I use regularly. A Davenport is ideal for this since it features four drawers on the right hand side. In mine, the top drawer is for a flatbed scanner, the second drawer contains a printer and the bottom two drawers are combined to house the computer.
Secondly, I wanted the desk to support a visiting laptop, i.e. a laptop could be plugged into the desk and make use of the monitor, printer and scanner. Thirdly, I wanted to be able to plug in a streaming video device for break times. Finally, the desk needed to be able to charge all of our modern devices.
A major objective for this project was to hide all of this modernity in such a way that it would look and function as nearly as possible like my inspiration desk. In other words, anyone could use this desk just as they would have in the middle of the 19th century. However, I quickly realized that, since I wanted to use a keyboard and mouse to control the computer, I would have to violate one of the cardinal features of a Davenport desk, its size.
The roughly 22" between the wings of a typical piano top Davenport is just not enough width to comfortably us a keyboard and mouse. Thus, I decided to expand mine to 30" wide, and still 24" deep. Another issue was how do you hide a monitor? Here again, the piano top Davenport is a useful inspiration. All of the ones I have seen feature popup banks of cubby holes, just asking to be replaced by a monitor. This, however, also required a significant modification to my inspiration desk. The serpentine top of the inspiration desk is too tall.
Ergonomically, the top of a computer monitor should be at your eye level. Measure the distance from your elbow to your eyes and you will see how little space there is to work with. The serpentine top on my desk needed to be less upright (more laid back?) than the inspiration desk to hold a reasonable monitor and the monitor riser would have to handle a 12" rise. One result of this modification is that the available gallery height is reduced to only 5".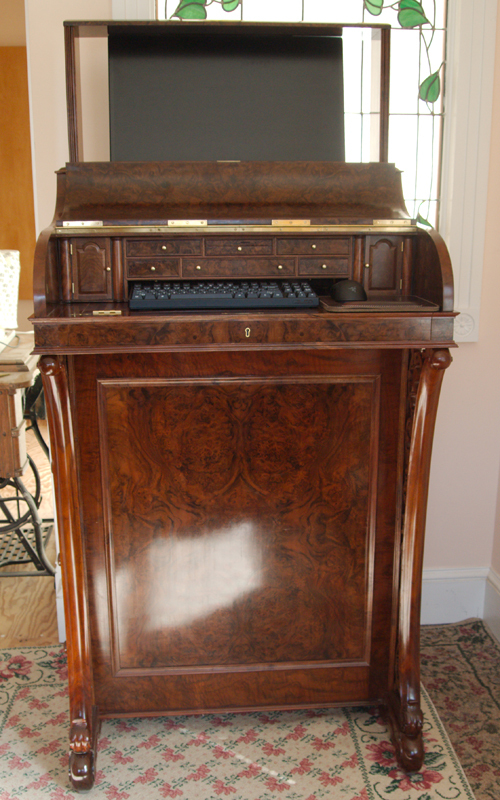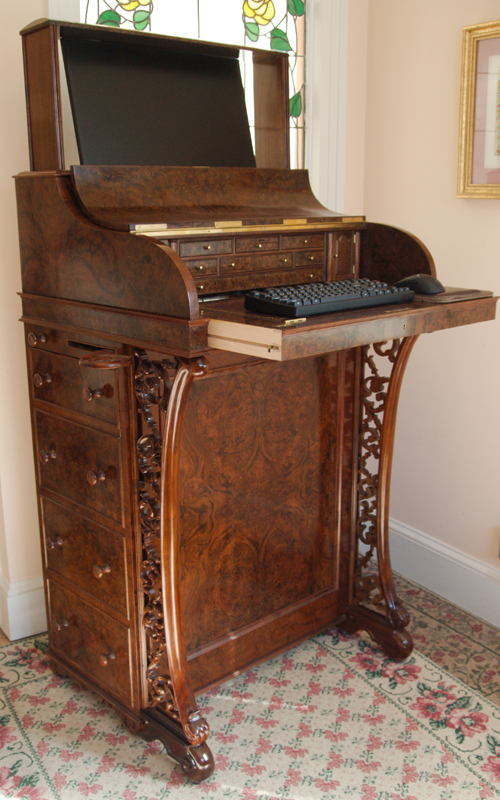 I decided to replace the gallery of the inspiration desk, for both aesthetic and functional reasons, with a gallery that contains two small prospect boxes, one on each end, with two rows of drawers in between. The two prospect boxes hide all the computer ports and electrical switches to control the computer functions (and, yes, there are small secret compartments behind the columns). For nostalgia reasons, I wanted to support a DVD drive. The upper half of the middle top row drawer conceals a DVD drive. Note: in some of the pictures it looks like there are three rows of drawers. The third row is just a fake drawer front. It is only visible when the writing surface fully is extended. Otherwise, it acts as the back of the storage compartment under the two rows of drawers, a convenient place to stow a keyboard and mouse.
These changes were primarily functional in nature; they made it a better computer desk. Other changes were more aesthetic in nature. For example, the necessary depth of the monitor riser meant that there was a significant blank space above the scanner drawer. Part of this space was filled with a knob which controls the locking down of the monitor riser. The rest of the space is a slot for a swing out candle holder (ok, coke can holder). This holder was inspired by a 1/12 scale model I saw of an architect's desk. We take our inspirations where we find them.
Once I had decided to cover the desk in burl walnut veneer, I knew that the front and back of the drawer section and the serpentine piano top would have to be 4-way book matched. As a result, and to maximize the selection of burls available, I decided to go with a frame-and-panel design for the sides. The frames are poplar and the panels are glued up from sugar pine. Hard maple was also used elsewhere as a secondary wood.
A last minute change was the nature of the filigree panels on each side. On the inspiration desk, these were fret sawn. By the time I got to them, I was comfortable enough with carving to decide that they would be more dramatic carved. The design is based on Mary May's Rococo Acanthus Frieze design from her Charleston fireplace surround, although mine is only about half scale. Finally, I added a bit of bling. A strip of edge-emitting LEDs is mounted in the moulding above the gallery. Activated by a touch switch inside one of the prospect boxes, it lights the writing surface.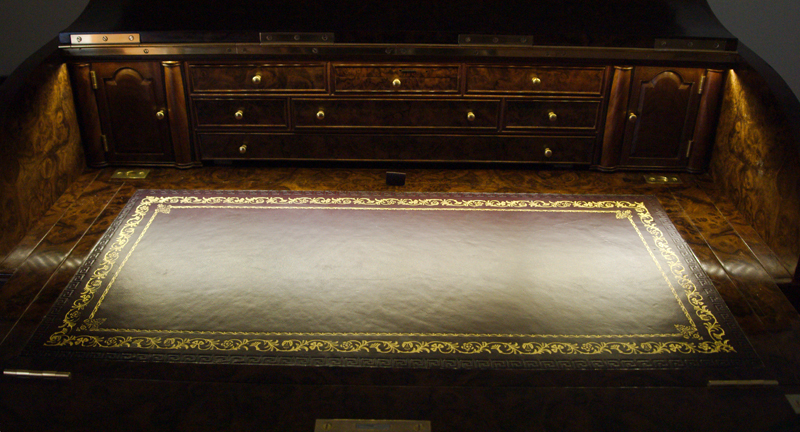 More pictures of Joe's desk, along with images of the antique desk he used for inspiration are available onlineat: https://fangornworks.smugmug.com/Woodworking/Davenport-desk/
Editors Note: This article first appeared in the SAPFM Pins and Tails Magazine, Spring 2021