SAPFM Turns Twenty
How a chance meeting became a valuable resource for those with a passion for period furniture.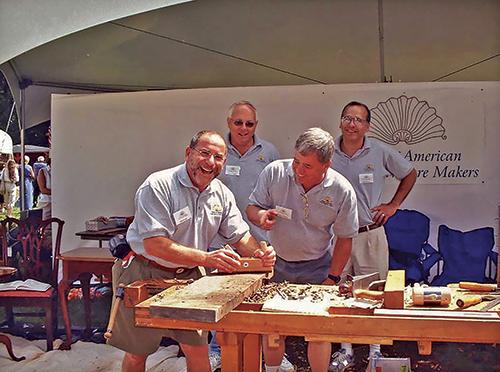 Although there is no official connection between Colonial Williamsburg's "Working Wood in the 18th Century" conference and the Society of American Period Furniture Makers there is a strong bond. In fact, without the conference SAPFM would likely never have been founded.
Learn About SAPFM
---
Why Belong to SAPFM?
From time to time, we need to be reminded of the enormous value of a SAPFM membership. When deciding if you should be a member of SAPFM, it has to be based on your experience and appreciation of the organization.
There are many SAPFM benefits you cannot put a price tag on. Membership is about supporting an organization that brings like-minded people together to share their knowledge, interest and love of furniture. It is the fellowship, the making of new friends, and learning from each other that is important.
For a period furniture makers, SAPFM provides an opportunity to meet like-minded people. SAPFM supports the effort to share information with others and expand their appreciation and abilities in making period furniture. As a collector, enthusiast, or academic, it is an opportunity to learn how furniture was made, how skills were acquired, how materials were used, and what processes and procedures were used to construct furniture pieces. .
SAPFM has made great strides in developing relationships with museums and other institutions that now provide more open access to their collections for our members. SAPFM demonstrates to the world that we are a credible organization through our active participation with museums, supporting our member's exhibits, and being recognized as a source of useful period furniture expertise.