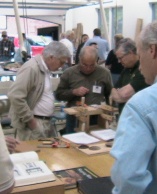 There are currently twentyone regional chapters of SAPFM. Regional chapters meet twice annually and feature member presentations on topics of interest such as carving, joinery, working with veneer, finishing techniques, and working with SketchUp.
If you would like to start a regional chapter in your area,download the Manual for Starting a New Chapter.
Members of SAPFM may attend any regional chapter meeting free of charge. For information on the regional chapter nearest you, contact the representative listed here.
For an agenda of upcoming meetings and to meet other members in your area, visit the SAPFM Forum thread SAPFM Chapter News and Discussion. The next upcoming event, and a link to the agenda, is also posted on the main web page for SAPFM.
For upcoming events,check the Events Calendar, sapfm.org, SAPFM on Facebook
, and SAPFM onTwitter
.