Cartouche Recipients
Cartouche Award Recipients
Category: Cartouche Award Recipients

Cartouche Award Recipients
2021: David Lamb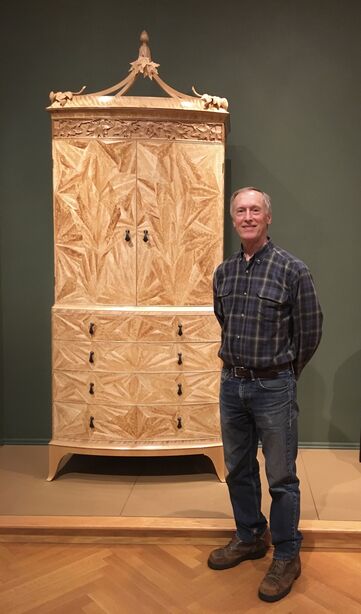 David Lamb's career started in Canterbury, NH almost 50 years ago when his family moved to Canterbury Shaker Village to run the Shaker museum there. Living within the historical setting and having a personal friendship with the six remaining Shakers gave him a unique insight into that segment of American folklife and the Shaker artistic and architectural output. Within a year of moving to Canterbury David was invited to be an apprentice with next door neighbor, Alejandro de la Cruz, an accomplished and traditionally trained cabinetmaker from Madrid.
The classic training David received over the three year period was thorough and focused on benchwork and all hand techniques and long discussions on design, proportion, aesthetics and the business of being a craftsman. Heavy emphasis on traditional American and European technique and form predominated the shop's output.
Contemporary art school was next at Boston University's Program in Artistry with Jere Osgood and Alphonse Mattia as teachers for his degree in Applied Arts. Thinking in non-traditional ways of creating form and aesthetic ideas was instrumental here.
It is these three aspects that drives David's design and work; classical form and integrity, Shaker directness and function and contemporary rethinking of graphic aesthetic and methods to accomplish them. In addition to these exposures, nature has played a huge part in what motivates David's design, both in form and detail by constantly drawing flowers and plants, carving them and incorporating these and other natural aspects in his work.
During his career he has been a 40 year juried member of the League of New Hampshire Craftsmen and has served as juror for over a decade. He is a founding member of the Guild of NH Woodworkers and regular contributor to their highly acclaimed Journal and is a founding member of The New Hampshire Furniture Masters Association where he has served as chairman for three terms. He was appointed New Hampshire Artist Laureate by Gov. John Lynch for two terms from 2010-2014. David also was a participant presenting traditional furniture making at The Smithsonian Folklife Festival representing NH in 1999 in Washington, DC.
Throughout his career as a full time furniture maker he has had innumerable furniture making opportunities building the highest level of historical work and just as important, pieces that rethink what tradition could mean. Collaborations with other artists and craftsmen play a big part in David's work but also the insightful feedback and exceptional contributions from his wife, Janet.
---
Category: Cartouche Award Recipients

Cartouche Award Recipients
2020: Tony Kubalak
Tony came to period furniture making as an avocation a little later in life. Initially he was captivated and intrigued by the shells on a Newport Six Shell Secretary he had seen in a magazine. The intrigue turned into a quest to understand and learn how to create them. Over the next fifteen years he learned basic woodworking skills, including hand cut dovetails, from books, videos and an occasional weekend class. However, he resigned himself to only being able to build pieces with a hint of 18th Century design.
This changed in 1999 when he took his first class with Gene Landon at Olde Mill Cabinet Shoppe in York, PA. Over the next eleven years he traveled the 2200 mile round trip from Minneapolis to York multiple times a year, making seven trips in one year. His progress started out a little slow, but with persistence, his skills steadily improved. His first project, a Chippendale Arm Chair, took four years to complete, but after that the pieces became more manageable as his skills and confidence improved. At the same time his interest turned into a passion which continues to this day.
Tony has won over ten awards for his work at the Northern Woods Show, an annual exhibition sponsored by the Minnesota Woodworkers' Guild. For nine consecutive years he was listed in Early American Life's Directory of Traditional American Crafts. His work has been featured several times in Fine Woodworking Magazine, Woodshop News and Woodwork Magazine. He authored a Master Class Article in Fine Woodworking that subsequently led to an opportunity to write his first book, Carving 18th Century Furniture Elements. That experience prompted him to write a second book, Carving 18th Century Motifs. A third book on building a highly carved Chippendale Dressing Table is in progress.
In addition to writing books, he recently has started to offer classes. He wants to specialize in helping others build high style pieces because of his passion for them and because he sees a void in this area.
Tony's main interest is in high style Philadelphia Queen Anne and Chippendale pieces. He is drawn to the carvings because of their beauty and challenge. He has traveled several times to museums to measure and photograph pieces of interest. He is currently in the middle of building the Willing Card Table and has documentation for, and plans to build several of the Cadwalader pieces.
You can see more of his work at www.TonyKubalak.com.
---
Category: Cartouche Award Recipients

Cartouche Award Recipients
2019: Robert G. "Bob" Stevenson, Jr.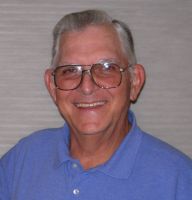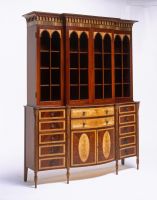 Bob was an inaugural member of SAPFM in 1999, helped establish the criteria for the Cartouche Award, and for many years was chairman of what is now called the Cartouche Award Selection Committee. With SAPFM member Brad Ormsby he founded the Southern California chapter and has contributed for many years to its success and growth. Following a highly successful 30-year health and space science career in the Navy, during which time he vigorously pursued art and woodworking hobbies, he pursued a second full-time career as a fine woodworking cabinet maker, including instruction for others.
For nearly two decades Bob was the Coordinator of the Design in Wood Show in Del Mar California, one of the largest international juried woodworking shows in the nation with over 350 yearly entries and nearly 1 million visitors each year. Throughout these years he became active in the impressive San Diego Fine Woodworking Association, all the while continuing his support for SAPFM and pursuing additional teaching and mentoring opportunities with youth in the community and with his woodworking peers.
Bob's furniture efforts eventually focused on the Federal Period, and he has entertained and educated SAPFM members with his impressive pieces shown in our publications and in our midyear meeting furniture displays.
Bob has the following pieces in the SAPFM Gallery:
---
Category: Cartouche Award Recipients

Cartouche Award Recipients
2018: James Journigan

More than 40 years ago,starting at the of age 14, Ray's passion for woodworking and furniture making was already evident and has grown more intense as the years have passed. Mostly self taught, Ray is none the less very quick to praise those who have inspired and taught him along the way, including his father, a master finish carpenter; Chuck Lammers, his shop class teacher; Ben Hobbs, 2011 Cartouche Award recipient; and Pierre Restelli, a master carver from Portsmouth, VA.
Between 1988 and 2013, Ray was pursuing two careers, simultaneously. He served his city as a fireman and his state and country as part of various FEMA teams. When not on duty, he created more than 200 pieces of museum quality period furniture, for his own use and on commission. Today he produces furniture and teaches out of his shop in Virginia Beach, VA.
Ray's work has been featured in various newspapers and in local and national magazines. He has taught fellow furniture makers through out Virginia for 30 years and is tireless in his efforts to increase awareness and appreciation of American period furniture, determined to keep the craft alive into the next generation.
---
Category: Cartouche Award Recipients

Cartouche Award Recipients
2017: Jeffrey S. Roberts

Jeff has built hundreds of period pieces of furniture in the style of Queen Anne, Chippendale, Jacobean, William and Mary, and Federal styles in his distinguished career.
Jeff started his career at North Bennet Street School studying with Phil Lowe, Lance Patterson and George Fullerton. This is where he fell in love with traditional furniture making and received a solid foundation in joinery, design, carving and building technique. One of his main passions that he discovered while at school was carving. Carving came naturally to him and would prove to serve him well in his career.
After years of building for others, he moved to New Hampshire in 2007, started his own business and soon became an award winning member of the League of New Hampshire Craftsmen as well as juried member of the prestigious New Hampshire Furniture Masters Association, a highly selective group of studio furniture makers in New England. Some of the accolades in the last 8 years include a number of League of New Hampshire Craftsmen Fair Living with Craft Exhibit Awards including: 'Best in Traditional Design' for his Newport Lowboy in 2013; 'Best in Wood' for his Newport Tea Table in 2011; 'Best in Traditional Design' for his Pie Crust Tea Table in 2010; and 'Best in Wood' and 'Public Choice Award' for his Newport Style Desk on Frame in 2008. He has been part of the New Hampshire Furniture Masters Prison Outreach Program since 2012 teaching high-level woodworking skills to inmates of the Concord Prison System.